Picasso was familiar with the shores of the Mediterranean and lived in a succession of towns on the Côte d'Azur. After his stay in Antibes, and before he moved to Cannes and then Mougins, Picasso's home was in Vallauris from 1948 to 1955. At that time he was living with Françoise Gilot and their two children, Claude and Paloma. During his time here, he produced a number of sculptures and paintings, including "War and Peace", one of the period's major works. Two techniques captured his imagination: ceramics and lino-cutting.
Picasso in Vallauris, the main dates
The month of July 1946 was to see a crucial encounter take place: that of the artist with ceramics and with Vallauris. While staying at Golfe-Juan Picasso went to Vallauris to visit the annual "Potteries, Flowers and Perfume" exhibition. At the Nérolium, the agricultural cooperative where the exhibition was held, he met Suzanne and Georges Ramie who ran the Madoura ceramics workshop. They took Picasso to visit this factory, where he modelled his first three pieces and then left …
The following summer, Picasso returned to Madoura. The pieces from the summer of 1946, two small bulls and a faun's head had been fired and carefully kept aside. He was delighted with the result he was presented with and asked to resume work at once. His request was accepted! A corner of the workshop was prepared for him and he began work, using sketches from a portfolio which he had surely prepared with this moment in mind..
That August at the Ramies saw the first experiments in modelling, firing and finishing which were to break new ground in ceramics. Having rapidly picked up from his hosts everything they knew about the ceramicist's technique, Picasso immediately launched into intensive production exploring all the resources of the material and inventing as his genius took him. Over the next twenty or so years Picasso was to make around 4000 original works. Many of the pieces were kept by Picasso himself, and most of them now belong to large private collections and museums
In 1948 Picasso, Françoise Gilot and their son Claude came to live in Vallauris. He bought "la Galloise", a relatively modest house in the Mauruches neighbourhood, then a workshop in the Fournas neighbourhood, in a disused former perfume factory.
In 1953, Françoise Gilot left Picasso and went back to Paris with her children
Then in June 1954 he met Jacqueline Roque, a beautiful and discreet young woman who worked at the Madoura gallery selling … Picasso work. Picasso was seventy-one and she was twenty-seven.. Picasso was struck from his first meeting with Jacqueline by her resemblance to a Delacroix painting The Women of Algiers and all the more because this young salesgirl resembled the women he had painted in the forties in every detail. He then began his assiduous courtship.
In 1955, Picasso left "Galloise" at Vallauris and moved with Jacqueline to the heights overlooking Cannes, to the Villa Californie.
In 1958, he closed the Villa Californie and the couple moved into the Castle of Vauvenargues which Picasso had just bought in the countryside around Aix-en-Provence. His remark was "I just bought myself Cézanne's sunlight".
In 1960, he bought the very beautiful farmhouse "Notre-Dame-de-Vie" in Mougins and he was nearly 80 when he moved in there in 1961.
But not before he had found the time to marry the person who was to become the companion of his last years, Jacqueline Roque, in a secret ceremony on 2 March 1961 in Vallauris.
After he left Vallauris for Cannes and then for Mougins, he continued his ceramic work and his collaboration with Madoura until his death in 1973.
The 25 years which Picasso spent on the Côte d'Azur, starting with his move to Vallauris in 1948, until his death in Mougins on 8 April 1973, were those of a great star.
He was the only painter to receive a national tribute in his own lifetime. An exhibition at the main Gallery of the Louvre, inaugurated by the President at the time, Georges Pompidou, was held to celebrate his 90th birthday. It was a unique event in the history of the Louvre, during which entrance was free for ten days.
He was also the only painter to have this same birthday publicly celebrated as a popular holiday, in the presence of thousands of people, famous or unknown, on 24 October 1971, in Vallauris decorated with the colours of the Spanish Republic.
But Picasso, who was about to be ninety the next day, stayed away from the party, just as he had decided not to make the trip to the Louvre.
On 8 April 1973, the Spanish artist died in his estate at Mougins. At 91 years of age, Pablo Picasso left behind a legend. He was buried at Vauvenargues.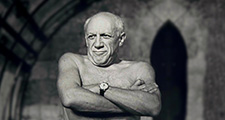 Vallauris golfe-juan
in 1 click