Picasso's ceramic editions
Picasso is one of the few artists to have consented to multiple editions of his works.
What he decided was that, aside from his personal original work, there should be a collection of works designed to be repeated in a defined number of identical copies. Work on copying his pieces began in the early 1950s with over 600 original pieces. He wanted his ceramic copies to be used as objects in their own right, explaining to André Malraux: "I've made plates you can eat from".
To see at Madoura and the Castle Museum
Madoura
hub of art, history and creativity
Castle museum
It is home to the "War and Peace" National Picasso Museum in the Romanesque chapel, the Magnelli Museum and the Ceramics Museum.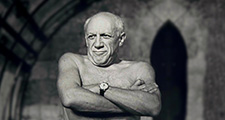 Vallauris golfe-juan
in 1 click