Ideally located on the French Riviera between Cannes and Antibes, Vallauris Golfe-Juan combines the charms of a village of ceramic tradition with the appeal of a sea resort of sandy beaches. Let us show you the sea and tradition, a discovery awaits you with every outing.
Start with Vallauris and his famous Ambassador, Picasso. The master attracted by the local craftsmen's know-how moved to the city of potters in 1948 and dedicated himself to ceramics at the Madoura workshop. Don't miss, on the market square the bronze statue "man with a sheep" by Picasso. For eight years, he made numerous sculptures and paintings, including a monumental work "war and peace" to be admired in the Romanesque chapel at the national Picasso Museum.
When talking about Vallauris you have to evoke its traditional activity, pottery. A listed "Town of Artisans" thanks to its internationally-renowned ceramics tradition, Vallauris overflows with creativity and attracts crowds of talented artists.
To discover the town's many treasures, take the avenue Georges Clemenceau where you will find pottery shops, artists workshops and art galleries.
To find out more about local crafts, open the door of a traditional workshop where you will be able to watch the different manufacturing techniques : throwing, decoration, firing…
By the seaside? Get off at Golfe-Juan stroll and lunch on the terrace on the marinas of the Old Port or
of the port "Camille rayon". Tucked away between the Cap d'Antibes and the Pointe Croisette of Cannes, the Bay of Golfe-Juan offers beautiful sandy beaches. its climate is spectacularly balmy, with over 300 days of sunshine per year and temperatures ranging from 11°C in winter to 25°C in the summer.
Did you know that Golfe-Juan is the starting point for the famous Napoleon road? Napoleon landed on March 1, 1815, registering for ever this humble fishing village in the history of France.
Traditional festivals, shows and many animations punctuate his life: Vallauris Golfe-Juan is to be enjoyed all year!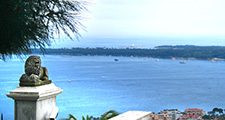 Vallauris Golfe-Juan
in 1 click