Vallauris' link with pottery dates back to the beginning of time itself. In the Gallo-Roman era, the significant deposits of fireclay here were used to make bricks and pots.
In the 15th century, the Plague wiped out local populations, and by the end of the century the area was deemed inhabitable, with only a few dozen families managing to survive in poverty
The region's lord at the time was a monk from Lérins and the prior of Vallauris. A kinsman of the Counts of Vintimille, Dom Raynier Lascaris had 70 families brought over from the county to rebuild and repopulate Vallauris and farm the local land.
Pottery began being sold here early on, as the habitation act dated 1501 states: "the lord prior shall collect the salt tax for all earthenware vases to be sold in the area known as Vallauris".
At the end of the 16th century, three pottery workshops were operating along the present-day Rue des Tours. In 1829, there were 32.
Despite the growing popularity of artistic pieces in the second half of the 19th century thanks to work by the Massiers, kitchen earthenware continued to be produced until the early 20th century. The arrival of the railway allowed production to be rolled out on a mass scale.
The economic crisis in the 1930s, combined with the use of more appropriate materials such as aluminium, cast iron and stainless steel, resulted in earthenware being less highly prized for kitchenware from the late 1940s on. The more whimsical, colourful Provençal pottery pieces flourished. Wood-fired ovens and alquifou meant tableware pieces began being glazed in gorgeous greens and muted yellows.
In 1948, Picasso exploded onto the thriving pottery scene here, and the incredible work he produced in the town contributed significantly to a revival of the craft.
The painter's popularity attracted hordes of curious visitors and art lovers, with all eyes suddenly turned on vibrant Vallauris, and artists from around the world flocking to the town to learn more about 'wood-fired crafts'.
The 1950s marked the golden age of Vallauris as a ceramics hotspot,.
a period in which many major ceramic artists rose to popularity, such as Roger Capron, Jean Derval, Gilbert Portanier, Roger Collet and Jean Marais much later on. Many moved to Vallauris and, like Picasso, chose to work with clay until the end of their careers.
A ceramics capital and listed "French Town of Arts and Craftsmanship", Vallauris remains a hub of contemporary creativity for ceramic arts and craftsmanship.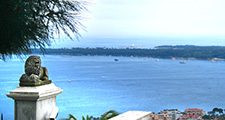 Vallauris golfe-juan
in 1 click